Welcome Back Students! Thursday, August 17th is the first day of school for the 2023-2024 school year. Classes begin at 8:30. We look forward to welcoming all of our Drumright Tornadoes!

HS softball opens up vs Meeker at the Oilton Tournament at 10:20 on Thursday! Go Tornadoes!

Wednesday, Aug. 16 Media Day and Team pics. Packets were sent home on Monday. All orders will need to be prepaid and money sent Wednesday if parents want to place an order. Softball: 2:00 (HS and MS) Cross Country: 2:45 (or earlier if Softball gets finished.) Football: 3:15 This is Media day for the paper as well and they will be wanting to take pictures also.

All district phones are working at this time. Thank you for your patience as we upgraded our systems.
ATTENTION SENIORS: There will be a Senior Sunrise organized by parent volunteers on the 1st day of school, Aug. 17 at 6:30 AM on the football field. Bring a chair or blanket. Everyone will also go to breakfast at Homestead so you will need money if you plan to join. Shirts will be ordered, and due to a time crunch they need your shirt size by 2:30 PM today, Aug. 9. It costs $12. You may text your shirt size to Penny Gooch @ 918.863.3815. Shirts can be paid for through Penny.

JH and HS Softball have their first home game vs Olive on Thursday, August 10 beginning at 4:00. Coach Austin Riley, players, and parents have spent countless hours preparing the field and facilities for the 2023-2024 softball season. Come out and support our TORNADOES!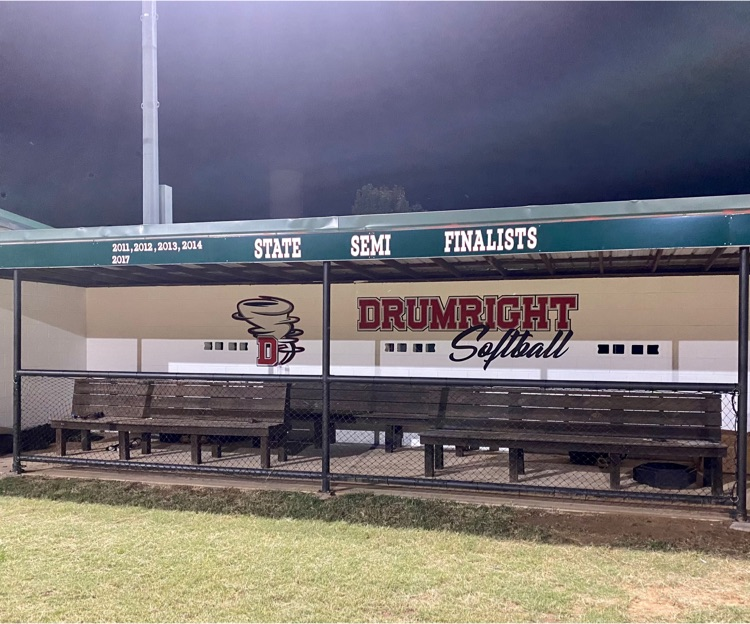 Tuesday, August 8th, all district phone lines are still down.

If you have not completed enrollment or are having problems, you can come by the school Tuesday and Thursday from 9-3, or Wednesday 2-6. This has to be completed by Thursday or your child will not be enrolled or assigned classes. Contact Lori McEntire with questions at
lmcentire@drumright.k12.ok.us

MEET THE TEACHER NIGHT Tuesday, August 15th - 6:00-7:30 Bradley Elementary students will be getting to find out who their 2023-2024 teacher will be on this night. Students can bring their supplies during this time. High/Middle School students and parents will have a brief meeting to go over the changes in the student handbook at 6:00. Schedules will distributed following the meeting to students who have completed the online enrollment process. Other Information: Bus routes will be posted. Deposit $ in student lunch accounts. If you have not completed the online enrollment process, please do so quickly. (We are needing to get students scheduled into their classes.) If you have any questions, contact Lori McEntire at
lmcentire@drumright.k12.ok.us

It's officially time for competition! Our athletes begin next week with a full week of activities. Our athletes have had a full summer of workouts to prepare for their upcoming seasons. Come out and support our Drumright Tornadoes as they begin their seasons. You can purchase an All Sports pass for admission of 2 adults and 2 students for $100, contact Shelia Cummins at
scummins@drumright.k12.ok.us
. Monday, August 7th- JH Softball vs Jennings @ 4:30 Tuesday, August 8th - HS Softball @ Mason @ 4:30 Thursday, August 10th - HS Softball vs Olive @ 4:00 Saturday, August 12th - 5/6, JH, HS Cross Country @ Stroud GO TORNADOES!!!
Cross Country Schedule 2023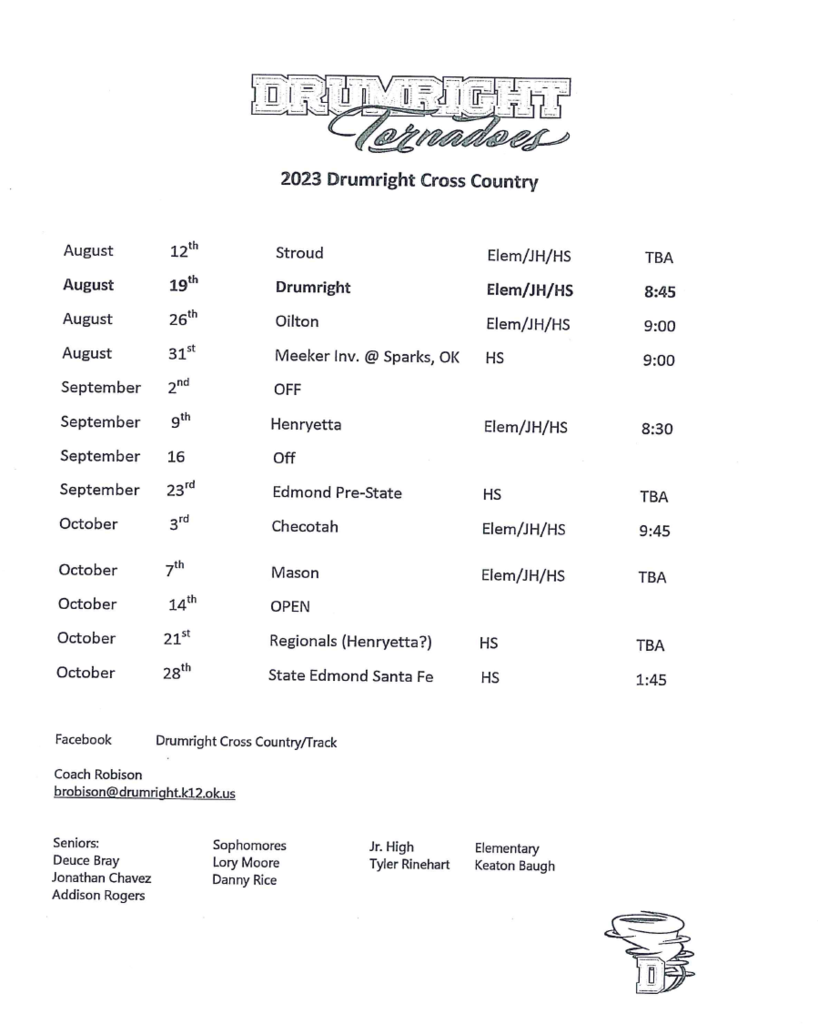 Cross country will have its first practice July 17th at 8:00 am for any student wanting to participate 5th-12th grades. please follow Drumright Cross Country Track facebook page. Contact Coach Robison with questions: 918-457-0630
EXCITING ANNOUNCEMENT! There are 13 high school students at Drumright High School enrolled for fall 2023 concurrent enrollment through Tulsa Community College! This is the most we have had in a long time. We are starting a scholarship fund for all juniors and seniors enrolled in college courses. The state of Oklahoma pays for the tuition, but students are left with the online fees and class fees. This is where alumni and community come in. If you would like to donate to our concurrent enrollment scholarship fund please email Mrs. Baugh, our school counselor at
bbaugh@drumright.k12.ok.us
or leave her a voicemail at 918-352-4010.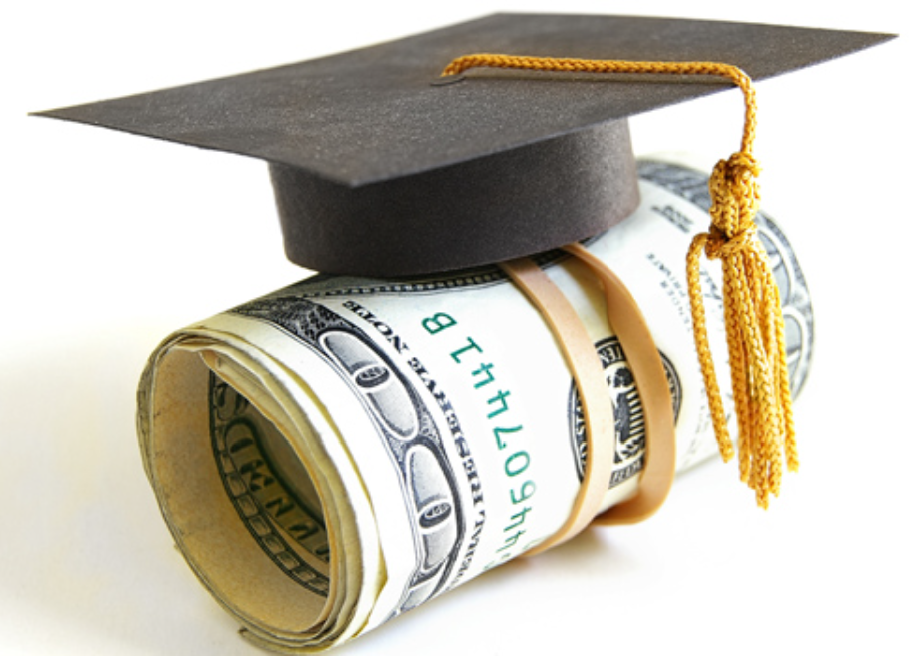 Parents, This information is to inform you that we are aware of the social media post that is being circulated concerning a school shooting scheduled for 2:30 today. There is no indication this threat is directly towards Drumright Public Schools, but we are still taking the threat very seriously and will be on heightened security as additional officers are currently on our campus. Students will continue to attend their classes as normal at this time. We are working with the Drumright Police Department to ensure the safety of our students and staff and will continue to determine the credibility of the threat and continue to monitor the situation. Thank you for your cooperation, patience, and understanding during this time as we work through this process.
The MS awards assembly will be a 12:00 tomorrow, May 9 and the HS will take place after at 1:00. It will be in the cafeteria.
8th graders will take their state science test tomorrow May 3rd starting at 9:30. Please make sure your child eats a healthy breakfast and brings a fully charged Chromebook for testing.
8th graders will take their state math tests tomorrow May 1st and Tuesday May 2nd starting at 9:30 AM. Please make sure your child eats a healthy breakfast and brings their Chromebook fully charged.
SENIORS, we can't wait to see you at baccalaureate tomorrow evening, April 30, at River of Life Church. The church will be providing refreshments for students in the fellowship hall at 5:15. Please arrive by then for line up with Mrs. Baugh. The service begins at 6 PM.
Reminder for Seniors: Please come let the office know how many roses you need to pass out at graduation. Extras are $2 each and need to be paid for by the end of school today. See Mrs. Baugh or Mrs. McEntire.