Central Tech Interviews for Drumright Campus are rescheduled for Friday, Feb. 3 starting at 8:30 AM

Monday, January 30, buses will be running at the regular scheduled time. Drumright Public Schools will be using a virtual day on Tuesday, January 31. Bradley Elementary School's students were issued with a packet to work on. Cooper Middle School and High School will need to log into their Acellus and complete the assignments. If you have any questions, please email your teacher(s), as they will be available by email. All extracurricular activities will be canceled. Again, Drumright Public Schools will be having a virtual day on Tuesday, January 31st.

Parents, if you would rather keep your child home from school today or pick your child up from school, you may do so and have your child do virtual instruction. Please contact your child's school to inform them of the absence. At this time, we believe weather and road conditions will allow us to have on campus instruction and we will remain open until further indications from our Emergency Management informing us otherwise. We will not run buses until the regular time unless the weather/road conditions worsen.

Based on continued information, weather conditions are expected to deteriorate late this evening and could become hazardous for driving conditions overnight. For the safety of our students, families, and employees, DPS will be closed on Wednesday, Jan. 25. This will not be a virtual/remote learning day.

Updated basketball schedule: The games that were scheduled tonight are rescheduled for Monday the 30th. The games vs Wynona that was scheduled for that date will be canceled.

7/8 academic meet will be rescheduled for Tuesday January 31 at 4:00 in Depew.

For Tuesday, January 24th, for the safety of our students and faculty, school will be closed due to potential weather conditions. All extracurricular activities will be rescheduled for a later date. Stay safe and warm!

Just a reminder: all information will be pushed out through our Drumright Public Schools app, website, email, and the news stations will have the weather closings information in the event it is needed. Thank you for your patience and stay warm!

DPS and EMS are watching the forecast for the potential incoming weather for the next few days and will make the best decision for the safety of our students and staff. In the event the weather risk predictions occur during the school hours, we would make the decision to not be in school. We will keep everyone posted.
Check out these scholarship opportunities!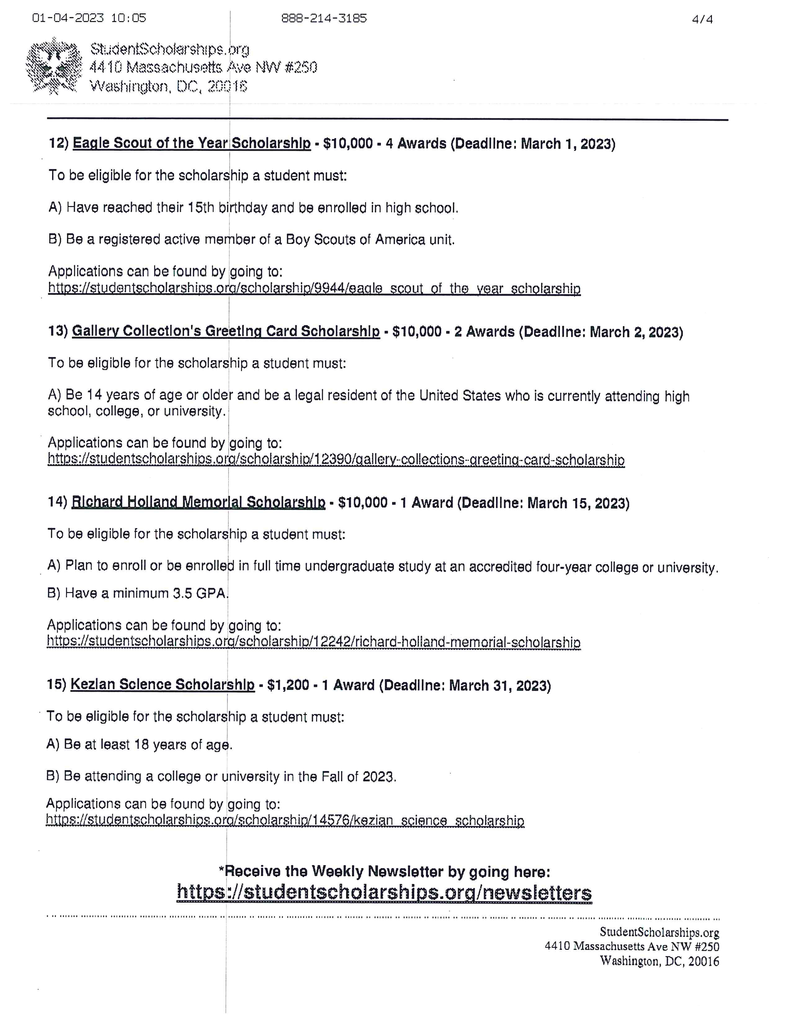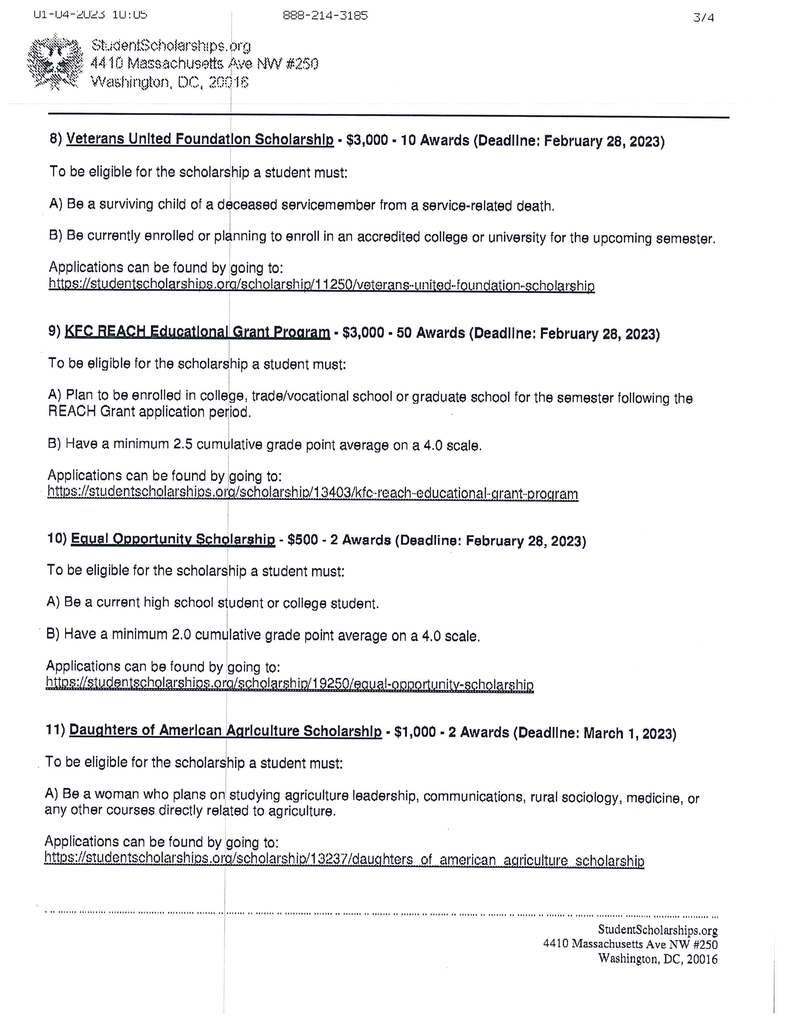 Deadline: February 15, 2023, 5:00 PM PT Eligibility: Must be of Hispanic heritage U.S. citizen, permanent legal resident, or DACA Minimum of 3.0 GPA on a 4.0 scale (or equivalent) for high school students; minimum of 2.5 GPA on a 4.0 scale (or equivalent) for college and graduate students Plan to enroll full-time in an accredited, public or not-for-profit, four-year university, or graduate school, in the U.S., for the 2023-2024 academic year Submit the FAFSA or state-based financial aid forms (if applicable) About HSF: HSF empowers families with the knowledge and resources to successfully complete a higher education, while providing scholarships and support services to as many exceptional students as possible. Founded in 1975, HSF has awarded over $708 million in scholarships. HSF Scholars have access to valuable Scholar Support Services and, as funding permits, scholarships ranging from $500 to $5,000. Additional Important information: It takes an average of 30 minutes for students to complete Phase I of the 2023 HSF Scholar Program Application No essays, recommendations, or document uploads are required in Phase I To get started, visit HSF.net and log into or create your myHSF profile to access the HSF Scholar Program Application HSF Scholar Application Timeline: January – Phase I of the HSF Scholar Program application opened January 1 and closes February 15, 2023, 5:00 PM PT Late February– Applicants are evaluated and the most competitive are selected as Finalists March – Finalists are also announced and asked to submit essays, recommendations, transcripts, FAFSA, and other related documents June – HSF Scholars are announced (including students waitlisted for the HSF Scholar designation) June to December – Final Document Verification (financial aid award letter, enrollment verification, and related documents) December – 10,000 HSF Scholars are confirmed after the verification process is complete
https://www.hsf.net/sign-up/

Emergency Action Plan Letter attached.

ATTENTION: TONIGHT'S BAND CONCERT WILL BE RESCHEDULED FOR AFTER CHRISTMAS BREAK DUE TO ILLNESS.
Please see the attached letter about semester exams for MS/HS students. Thank you!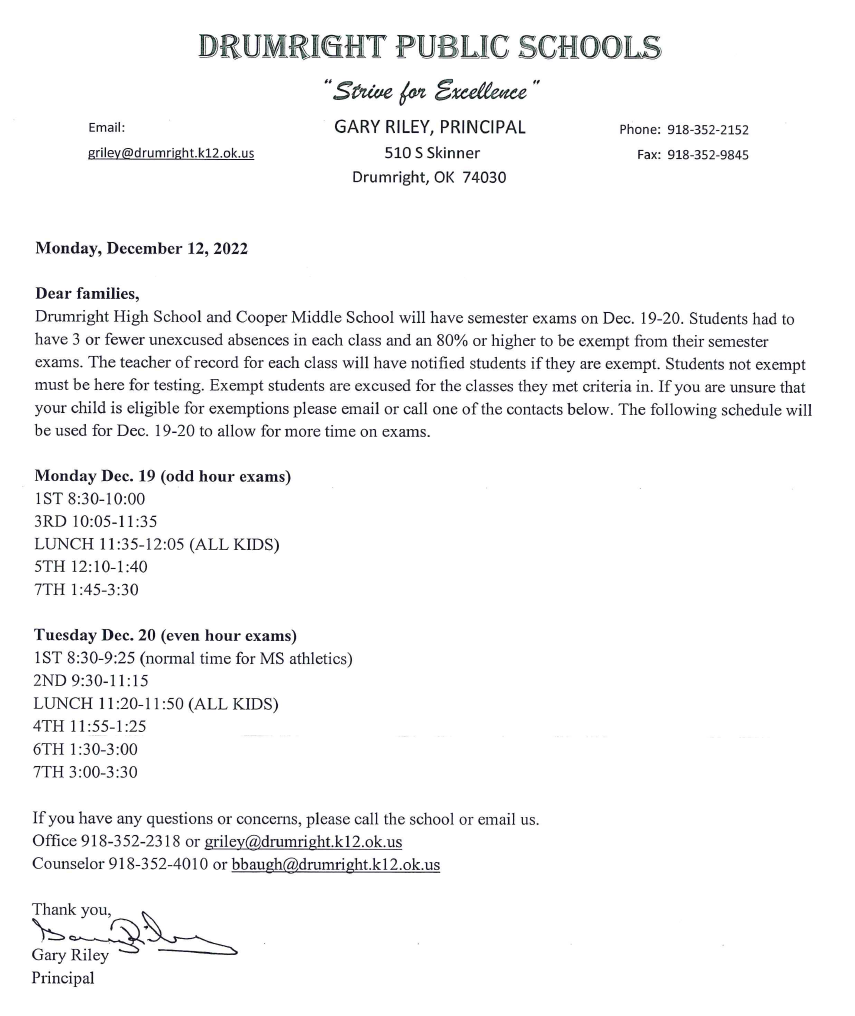 Schedule change for boys basketball tournament. Our boys will play Frontier on Monday at 8:00 PM in the Frontier Tournament.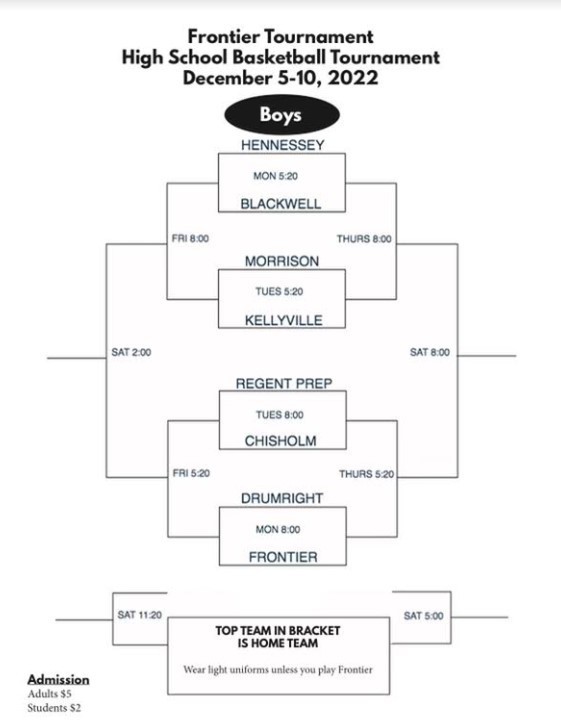 The Acellus Learning Accelerator is set up and ready to allow parents access to monitor your child's progress. See image attached for more information.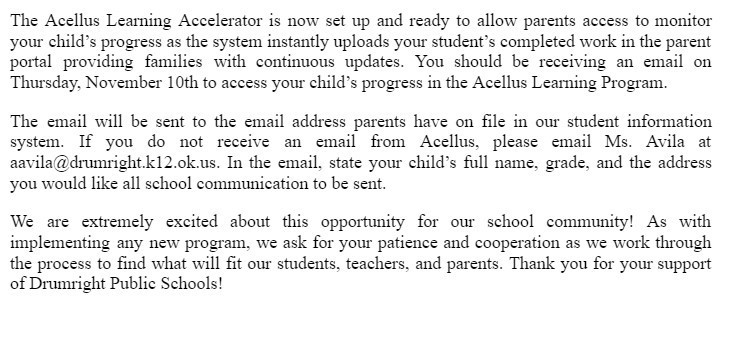 FOOTBALL GAMES RESCHEDULED DUE TO WEATHER After communication with our local Emergency Management Agencies and the discussion of potential severe weather, Drumright Public Schools has made changes to this week's scheduled high school football game and the powderpuff game. To ensure the safety of all student-athletes and spectators, Drumright's home game versus Olive, originally slated for Friday evening, will now take place Thursday at 7 p.m. at Riddle Field. The highly anticipated powderpuff game will be postponed to the spring. Senior night festivities will take place before the game at 6:30 p.m., as originally planned.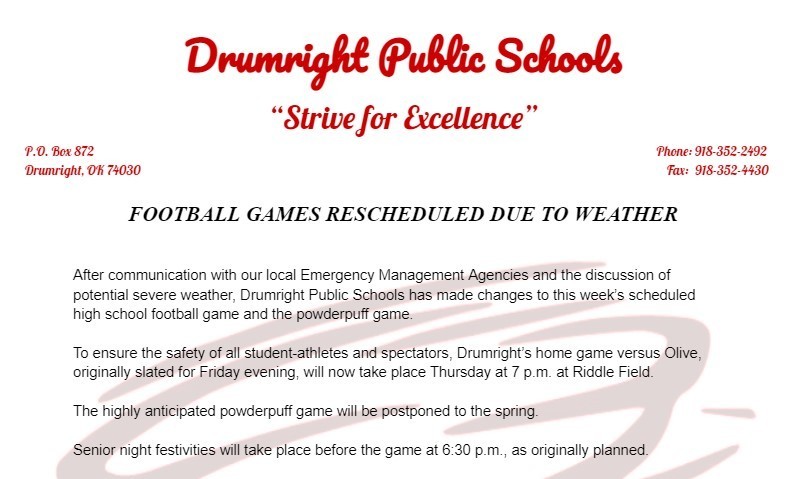 Drumright High School Homecoming Coronation Tonight @ 6:00 PM

Floats are lined up and ready to go!